1st Annual SlopeAerobatics.com Video Contest!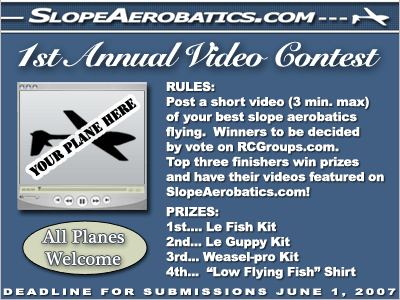 I'm pleased to announce the 1st Annual SlopeAerobatics.com Video Contest!
The idea is simple: each contestant posts a short video (3 minutes or less) of their best slope aerobatics flying. Any type of plane is fine – wings, moldies, whatever. The videos will be voted for on RCGroups and the top three finishers get prizes and will have their videos featured on SlopeAerobatics.com!
Prizes, you said? Yes, Prizes–why not!!
1st prize – Le Fish kit from Leading Edge Gliders
2nd prize – Le Guppy kit from Leading Edge Gliders
3rd prize – Weasel-pro kit from Richter R/C
4th prize – "Caution: Low Flying Fish" t-shirt from SlopeAerobatics.com
In the event of a tie, we will have a runoff. Videos can be posted on RCGroups, on YouTube, your personal webspace, whatever – you just need to link to the video in the thread on RCGroups:
http://www.rcgroups.com/forums/showthread.php?t=664937
Deadline for submissions will be June 1, 2007. Contestants from all over the world are welcome to participate.
Let me know if you have any questions, and start filming!!