MadStab 200°+ lasercut servo pulleys now available!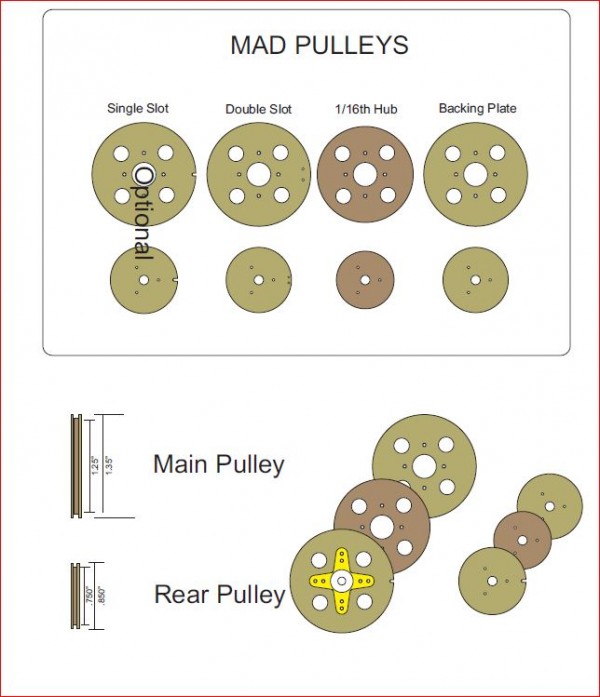 Doug Montgomery of Glendale, Arizona has started producing laser cut servo pulleys / wheels that can be used to create a 200°+ rotation Madslide-style stabilizer based on Dawson Henderson's innovative design. They look really nice and simply bolt to a standard 4 arm servo horn. They have a 1.6:1 ratio between the servo side and the stabilizer side and are cut from a combination of G-10 and 1/16″ plywood.
You can order by contacting Doug via private message on RCGroups. The post announcing these, including prices, is here in the "How to build a Swiss Fish" thread on RCGroups.com.
After having tested pull-pull and pushrod setups, I'm convinced that this pulley solution, pioneered by Dawson Henderson, is the best. All the drawbacks of the other solutions are addressed in an easy to set up, reliable, and durable solution that lets you whip a multiflip with ease. I will be getting some soon from Doug and can't wait to try them out!!
Doug is also offering lasercut SB96V/SB9VS and MG05 airfoil templates in chord lengths designed for the 1.5m (60″) Le Fish. You can order his templates via this thread for the SB96V/SB96VS templates and this thread for the MG05. He also provides PDFs of the templates if you want to cut your own. Please note that the current Leading Edge Gliders Le Fish uses a modified SB96V/VS airfoil of Jack Cooper's design, which is different from what Doug is offering here.
Wow! I'm so totally floored and excited by this development! Huge thanks to Doug for providing these valuable resources to Le Fish scratchbuilders worldwide!!