Original Madslide article from Looping Magazine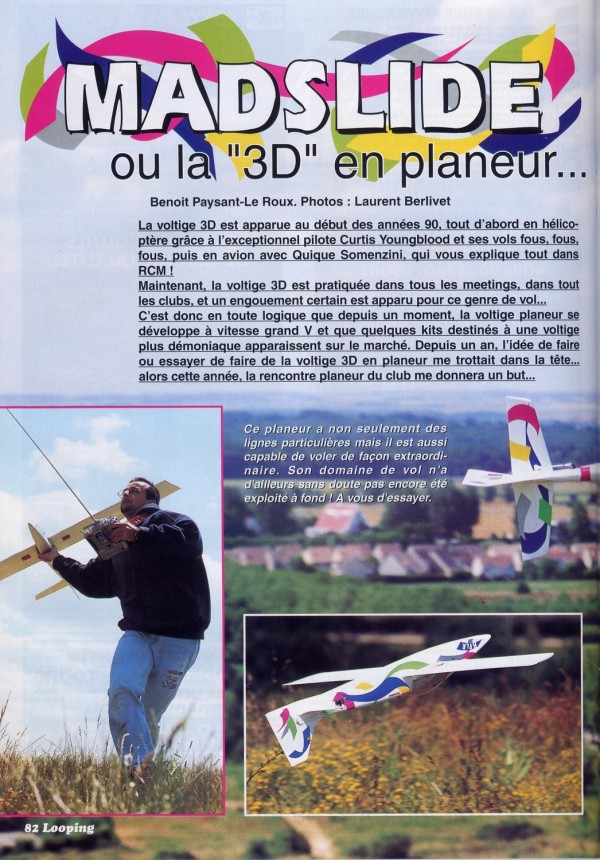 Another great set of scans from Laurent Berlivet of Jivaro Models, this time about one of my very favorite 3D / VTPR gliders, the Madslide by Benoit Paysant-Le Roux (known as BPLR for short). This article appeared in Looping back in the August/September 2000 issue and, when read, still inspires a passionate interest in the design today.
Back when our merry band of aerobatic enthusiasts on RCGroups was trying to sort out Madflight in 2008, BPLR was kind enough to share some very timely Madflight tips with us. Thanks to his timely intervention, and confirmed by our own experiments, the "secret" to Madflight is having at least 180* total rotation on the horizontal stabilizer. Then the flips come fast and furious! 🙂
Big thanks to Laurent for again sharing such a classic article with us!
Note that plans for the Madslide in both 1.5m and 2.3m size are available for free on Laurent's website: Madslide plans
Madslide 3D slope aerobatics with Benoit Paysant-Le Roux (BPLR) from surfimp on Vimeo.